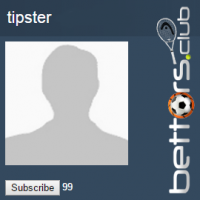 Great news everybody, we have just started the new feature Subscribe to Tipster!
Now you can receive predictions by e-mail from your favorite tipster / tipsters for Free. You can still receive e-mails from All Tipsters like before but now you can select your favorite tipsters by going on their profile and press Subscribe.
In this article we will show you how to Subscribe to a tipster or more, Unsubscribe from a tipster or more, Unsubscribe from all tipsters or Subscribe to all tipsters.
First thing is first, you have to create an account with bettors.club. It's 100% Free and easy to make. See the video below:
Now we are going to show how you can Subscribe to a Tipster or more:
Let's say now that you want to Unsubscribe from a Tipster or more. You can do that by visiting his page or in your Profile:
If you decide you don't want to receive e-mails you can select None and you will stop receiving e-mails. Also in the next video you can see that if you want to return to your subscribe list, bettors.club will save it, see below:
If you want to Subscribe to all tipsters and receive e-mail from all, see the next video:
If you have any questions do not hesitate to Contact Us or leave a comment here.