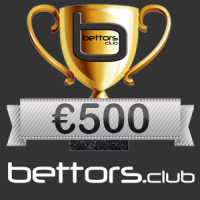 The bettors.club 500 Tipster Competition – See Standings
The winners will be announced in the News section or here.
Real Money Prizes offered by Bettors.Club!
In this month we will give away to the Best Tipsters prizes up to €500. The participation is FREE and prizes will be rewarded in the tipster's Skrill account.
This is the main tipster competition that bettors.club is hosting, but tipsters can also participate in other active tipster competitions that may be hosted on the site. The rules are the same, but with some differences in the way we choose the winners. Here are the differences:
2.0.Choosing the Winners
-The winners will be determined by the highest monthly Profit.
-The tipster must have a Positive Profit to win any Money Prize.
-The tipster must have a min. 50% Hit Rate to win any Money Prize. (Removed)
3.0.Pick Rules
3.1.Minimum 15 picks/month with Description(Preview).
3.8.Picks with description are counted for this competition (~50 words in English – do not Copy-Paste).
IMPORTANT: Tipsters that don't have a Skrill account, must open a new account through this link in order to receive the prize.
Advantages of this competition:
-Real Money Prizes in your Skrill account
-Prizes till 17th place
-€500 Prize Pool
**Read the General Rules
*Rules Changes: Any rule may be added, removed or changed at any time. If you have any suggestions, please Contact us
---