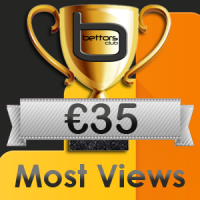 The Most Views Tipster Competition
The winners will be announced in the News section or here.
Real Money Prizes offered by Bettors.Club!
From 01.08.2017 we will give away to the most viewed predictions the following prizes of 20€, 10€ and 5€. The participation is FREE and prizes will be rewarded in the tipster's Skrill account.
All tipsters will automatically participate with any of their predictions. The rules are the same, the only difference is the way we choose the winners.
2.0.Choosing the Winners
-The winners will be determined by the highest monthly Unique Pageviews.
-If two or more picks have the same Unique Pageviews, Average Time on Page will be taken in consideration.
-Picks must not have over 90% Bounce Rate.
-Picks must have over 1 minute Average Time on Page.
3.0.Pick Rules
3.1.Minimum 1 pick/month with Description-Preview or NO Description-Preview
3.8.Picks with description and Picks without a description are counted for this competition.
IMPORTANT: Tipsters that don't have a Skrill account, must open a new account through this link in order to receive the prize.
Advantages of this competition:
-Real Money Prizes in your Skrill account
-All picks will participate automatically
-Negative Yield or Profit still wins a prize
Tips on how to win
-Writing an original Preview will get more views from Search Engines.
-Making a prediction on an event-match that is not on other sites or by other tipsters.
-Taking a prediction with over 24h before it starts.
*Do not use traffic exchange sites to generate fake views, they will appear in Google Analytics and you will be disqualified.
Down below is an example from June 2017: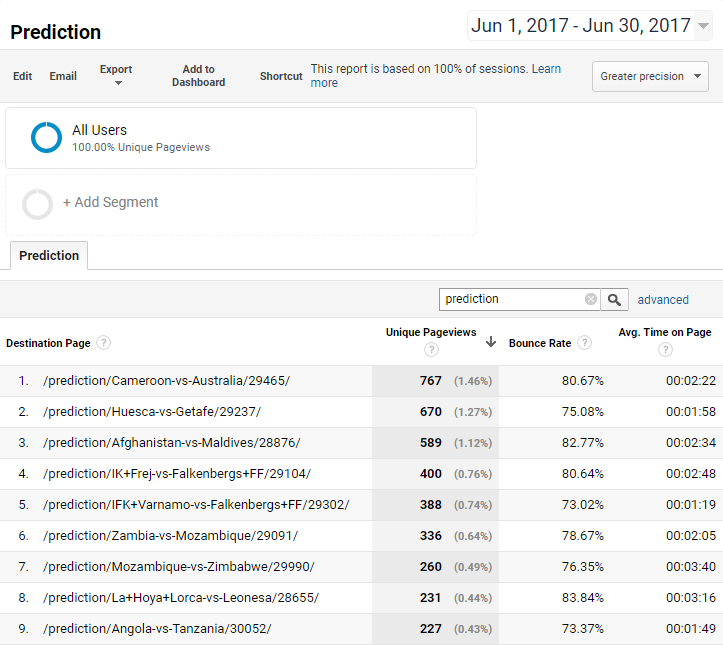 **Read the General Rules
*Rules Changes: Any rule may be added, removed or changed at any time. If you have any suggestions, please Contact us