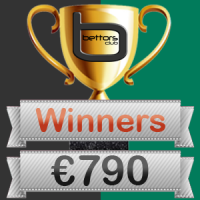 Here are the Tipster Competition Winners for 04-2017 for the bettors.club, bet365, betboro and Neteller Tipster Competitions.
First of all we want to congratulate our winners in all the competitions. For this month we accepted a minimum 35% Hit Rate.
The prizes will be rewarded this month like always and we would kindly ask you to send an e-mail confirmation after you receive a prize. Or you can leave a comment down here.
Down below we have a screenshot with the winn...
Read More