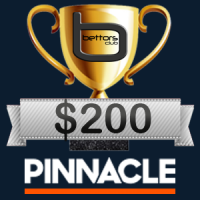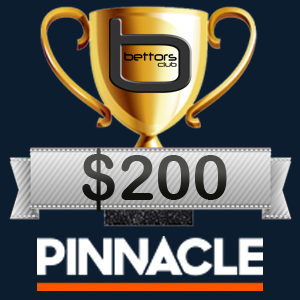 The Pinnacle Tipster Competition – See Standings
The winners will be announced in the News section or here.
Who is pinnacle.com? Read here: Pinnacle Review
This competition is dedicated to all tipsters that made an account through us at pinnacle.com and want to support bettors.club. We want to reward those tipsters with bonus prizes for their support. The bonus prize pool is $200 and all prizes for this competition will be rewarded in the tipster's pinnacle.com.
Besides the bettors.club Tipster Competition, all tipsters will automatically participate in the Pinnacle tipster competition. The rules are the same, but with some differences in the way we choose the winners. Here are the differences:
2.0.Choosing the Winners
2.1.The winners will be determined by the highest monthly Profit
2.2.The Tipster can have a Positive or Negative Profit/Yield to win a Prize
2.3.Tipsters must have the account opened through bettors.club in order to receive a prize
3.0.Pick Rules
3.1.Minimum 10 picks/month with NO Description / Preview
3.8.Picks without a description are counted for this competition.
Pinnacle Terms & Conditions
1.Players must have a verified Pinnacle account in order to withdraw.
2.Only one account per player and per household, any attempts to use multiple accounts in order to gain an unfair advantage will invalidate all connected entries.
3.Players must place a minimum of 1 Real Bet on Pinnacle during the competition month to qualify for any prize.
4.All prizes will be paid directly into the Pinnacle accounts of the winners.
5.The total amount of any cash prize must be wagered at least 3 times (3x rollover) before the prize amount may be withdrawn.
6.The tracking of results and the accuracy of the final results is the responsibility of the host website, not of Pinnacle.
7.In the case of any disputes, the decision taken by Pinnacle shall be final.
IMPORTANT: To have receive the prize you must open an account through bettors.club. Click here to open a new account.
How does it work? Example down below:
tipster 1.  115 Profit – account through others
tipster 2. 101 Profit – account through bettors.club
tipster 3.   98 Profit – account through bettors.club
tipster 4.   81 Profit – account through others
tipster 5.   57 Profit – account through bettors.club
tipster 6.   30 Profit – account through others
tipster 7.    -3 Profit – account through bettors.club
…
The Winners will be in this order:
1) tipster 2.   101 Profit – account through bettors.club
2) tipster 3.    98 Profit – account through bettors.club
3) tipster 5.     57 Profit – account through bettors.club
4) tipster 7.      -3 Profit – account through bettors.club
…
Advantages of this competition:
-Even if you have an unlucky month you can win prizes if you support bettors.club
-Negative Yield/Profit still wins a prize
-Prizes till 13th place
-No Description / Preview needed
**Read the General Rules
*Rules Changes: Any rule may be added, removed or changed at any time. If you have any suggestions, please Contact us
---