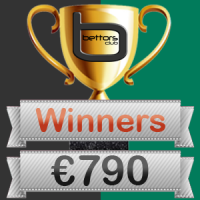 Here are the Tipster Competition Winners for 01-2017 for the bettors.club, bet365, betboro and Neteller Tipster Competitions.
First of all we want to congratulate our winners in all the competitions. For the first month of the new year we have ignored the 50% Hit Rate.
The prizes will be rewarded this month like always and we would kindly ask you to send an e-mail confirmation after you receive a prize. Or you can leave a comment down here.
Down below we have a scre...
Read More